The Lagos State Judicial Panel of Inquiry into the massacre of protesters at the Lekki Tollgate has released the full list of victims.
According to the list, a total of nine EndSARS protesters were shot and killed at the Lekki tollgate on October 20, 2020, by Nigerian security forces.
The list of names was contained in the report submitted by the Judicial Panel of Inquiry on Restitution for Victims of SARS-related Abuses and Other Matters, which was obtained by their correspondent.
The panel, in its 309-page report submitted to the Governor Babajide Sanwo-Olu of Lagos State on Monday, listed 48 names as casualties of the incident.
Out of the 48 causalities, 24 sustained gunshot injuries, while 15 others were assaulted by soldiers deployed to the Lekki tollgate that fateful day.
See the full list of names of victims below: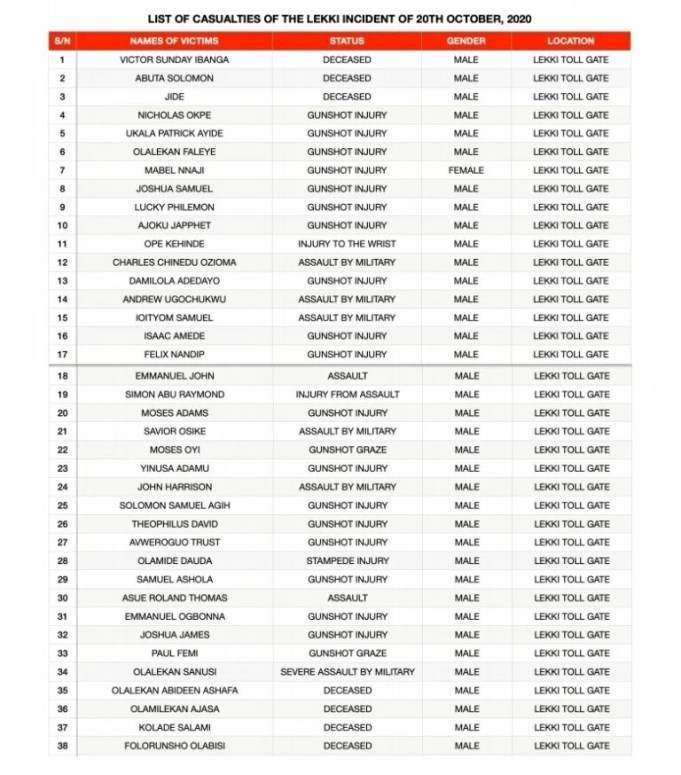 For events coverage, breaking news, and advert placement contact us today on our hotlines: 2348178888701 (Calls and WhatsApp), You can also email us at [email protected] and [email protected]